Family Dinner Project- April – Soap Sculpture
Daniel Chester French, American, 1850 -1931
Daniel Chester French attained prominence as the leading American monumental sculptor of the early twentieth century. Born in Exeter, New Hampshire, he spent his youth in Cambridge and Amherst, Massachusetts, before moving with his family to Concord in 1867. That fall he entered the Massachusetts Institute of Technology but withdrew after two semesters. French began his first serious study of sculpture during the winter of 1868–69, receiving modeling supplies and lessons from Abigail May Alcott. His brief formal art training consisted of a month-long apprenticeship with John Quincy Adams Ward in 1870, supplemented by evening drawing classes at the National Academy of Design. In Boston, during the winters of 1871 and 1872, French attended anatomy lectures given by William Rimmer and took drawing lessons from William Morris Hunt.
Between 1870 and 1874, French executed twenty-five decorative statuettes in plaster; some, such as Joe's Farewell, were reproduced in parian. French's first foray into public art came in 1873, when his hometown of Concord, through the auspices of family friend Ralph Waldo Emerson, commissioned The Minute Man (1871–75; Minuteman National Historic Park) to commemorate the centennial of the Battle of Concord. Although the full-size bronze responds compositionally to the Apollo Belvedere, it contained the seeds of the Beaux-Arts aesthetic with which French would become synonymous along with his genial competitor Augustus Saint-Gaudens.
Some of French's most illustrious monumental sculpture was executed in conjunction with American architects at the forefront of the City Beautiful Movement. For the entrance to McKim, Mead & White's Boston Public Library, French completed three sets of bronze doors (1894–1904), adeptly modeling single female figures in low relief to ornament each valve. French's imposing seated figure Alma Mater (1900–1903) is installed on the steps of McKim's Low Library at Columbia University. The collaborative effort between Cass Gilbert and prominent sculptors for the United States Custom House (1903–7; New York) resulted in French's four Continents (Asia, America, Europe, and Africa) for the entrance blocks of that building. His most steadfast architect colleague was Henry Bacon; their years of fruitful creativity on nearly fifty projects reached an apogee in the Lincoln Memorial  in Washington, D.C., for which French completed the massive seated Lincoln (1911–22), his best known sculpture. The sculpture is composed of twenty blocks of Georgia marble, carved in the Bronx studio of the Piccirilli Brothers, and assembled on site in Washington.
Over his career of six decades, French gave generously of his time to various artistic organizations, including the American Academy in Rome, the Art Students League, the National Arts Commission, and the National Sculpture Society. French was a trustee of The Metropolitan Museum of Art from 1903 until his death in 1931, serving as the chairman of the committee on sculpture. During those years, he was responsible for the accession of the Museum's core collection of American sculpture. French led an ordered life divided between New York, where he settled in 1888, and his summer home and studio, Chesterwood, in Glendale, near Stockbridge, Massachusetts, where he bought property in 1897. Chesterwood was given by his daughter, Margaret French Cresson, to the National Trust for Historic Preservation in 1969. It is open to the public on a seasonal basis.
bio excerpt taken from metmuseum.org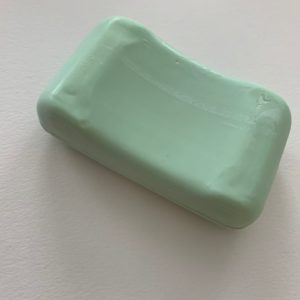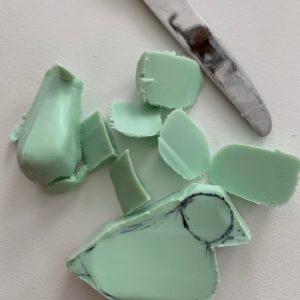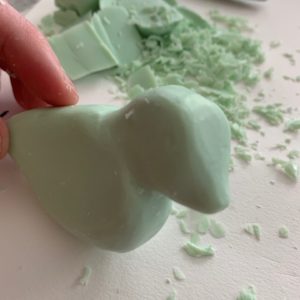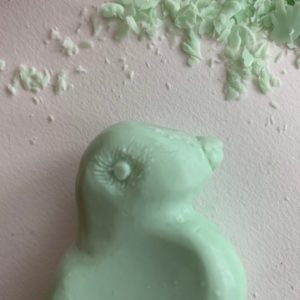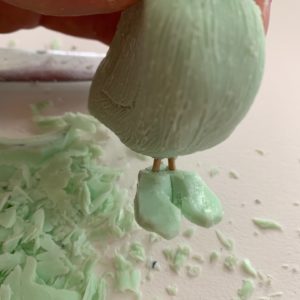 To begin your project, we must first gather materials.
Bar of soap
Pen
Butter knife
Toothpick
Now that we have our supplies, it's time to assemble.
On your bar of soap, use a pen to draw the outline of the object you want to sculpt. It is helpful to sketching out the object on paper as practice before you draw on your soap. Think about the basic shapes of your object to help draw.
Using a butter knife, trim off the edges around your outline that you will not need.
Use the sides of the knife to gradually shave down and round out the edges of the soap.
Continue using the knife to smooth out edges and add any contouring or curved shapes. For example, in picture number 5, the knife was used to carve in between the head and the body to set those to shapes apart.
Once all your carving, shaping, and smoothing is done, use a toothpick to add in details and textures.
If your object is unable to stand on its own, or you need to add elements to it, use a toothpick to piece them together. The tooth pick can be trimmed down for smaller objects. Place half of the tooth pick in the object and the other half in the add on.
Last step…
Share! Post your projects on Facebook or Instagram using the hashtag #qacfamilydinnerproject for your chance to win a $40 gift certificate to use towards classes and workshops at the Art Center! Winner will be drawn April 30!
*SAFETY NOTE: All children under 15 should be accompanied by an adult. Be sure that you read all product directions before use and follow all safety directions listed. When use of hazardous fumes, example: spray paint, use outside or in a well-ventilated space.
**SAFETY PRO-TIP: When using hot glue, if hot glue gets onto your skin DO NOT ATTEMPT TO PULL IT OFF WHILE THE GLUE IS STILL HOT, this will only spread the glue and cause more harm. DO Run area under cool water until glue has cooled or the glue pops off. There will still be a burn, but the injury will be limited. Use burn cream if necessary. Seek medical attention when needed.