Family Dinner Project- August – Pop Art Prints
Andy Warhol, American, August 6, 1928
Andy Warhol was born Andrew Warhola on August 6, 1928, in a two-room apartment at 73 Orr Street in a working-class neighborhood in Pittsburgh, Pennsylvania. Carpatho-Rusyn immigrants from an area in the Carpathian Mountains in what is present-day Eastern Slovakia, his parents Andrej and Julia Warhola had three sons, Paul, John, and Andy, the youngest.
After graduating from art school with a degree in pictorial design, Warhol moved to New York City to pursue a career as a commercial artist, and he dropped the final "a" in Warhola. He moved with fellow classmate Philip Pearlstein and created a circle of close-knit friends including college friend Leila Davies Singeles and dancer Francesca Boas. His work first appeared in a 1949 issue of Glamour magazine, in which he illustrated a story called "What is Success?" An award-winning illustrator throughout the 1950s, some of his clients included Tiffany & Co., I. Miller Shoes, Fleming-Joffe, Bonwit Teller, Columbia Records, and Vogue.
In 1960, Warhol turned his attention to the pop art movement, which began in Britain in the mid-1950s. Everyday life inspired pop artists, and their source material became mass-produced products and commercial artifacts of daily life; commercial products entered into the highly valued fine art space. In 1961, Warhol created his first pop paintings, which were based on comics and ads. Warhol's 1961 Coca-Cola is a pivotal piece in his career, evidence that his transition from hand-painted works to silkscreens did not happen suddenly. The black and gray composition first sketched then hand painted is a blend of both pop and abstraction, which he turned away from at the beginning of his career before experimenting with it again in the 1980s.
Warhol became increasingly involved in publishing in the late 1960s, becoming fully immersed in the 1970s. In 1969, he co-founded Interview, a magazine devoted to film, fashion, and popular culture that gave him access to the stars. He published his first mass-produced book,Andy Warhol Index (book) , in 1967, and THE Philosophy of Andy Warhol (From A to B and Back Again) was published in 1975. Published posthumously in 1989, The Andy Warhol Diaries, chronicle his daily life from November 24, 1976, through February 17, 1987, five days before he died; his assistant and friend Pat Hackett transcribed their daily phone conversations detailing the previous day's events.
Throughout his career, Warhol frequently collaborated with artists, and in 1984 he worked with young artists Jean-Michel Basquiat, Francesco Clemente, and Keith Haring. When working with Basquiat and Clemente, each artist worked independently on the canvas before passing it along, the artist's individual marks remaining distinct and recognizable signs and logos becoming part of the compositions. Warhol also returned to hand painting with a brush in the 1980s, something he had set aside in the 1960s in favor of the silkscreen.
"If you want to know all about Andy Warhol, just look at the surface of my paintings and films and me, and there I am. There's nothing behind it."
-ANDY WARHOL, THE EAST VILLAGE OTHER, 1966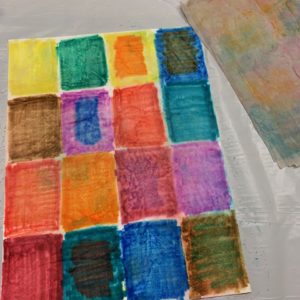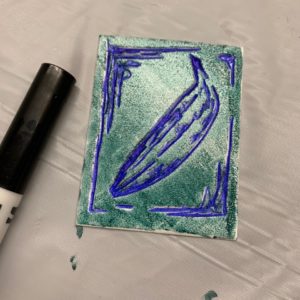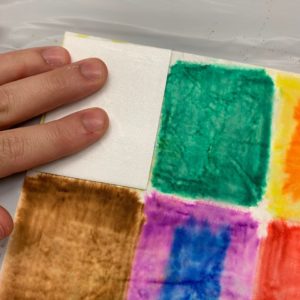 To begin your project, we must first gather materials.
paper
styrofoam take-out container
washable markers
scissors
pen
Now that we have our supplies, it's time to assemble.
Fold paper into a series of equal squares or rectangles. How many you do is up to you (we did 16)
Cut your styrofoam into the same size square or rectangle as the ones on your paper
Draw whatever image you would like do a repetitive pattern of on your styrofoam square. Using a pen helps you see what you have drawn. NOTE: where you push down with your pen will be the parts of the image that the color from your paper will show through. ALSO NOTE: Your image will be reversed when you print it. It is best to stick with images and not words as words must be written backwards to print correctly.
Take your damp paper towel and get the first square slightly damp
Color your styrofoam square with the black marker.
Place the styrofoam square on your first, paper square. Press down on the styrofoam until you feel like all the marker has transferred onto the paper.
Peel off the styrofoam to reveal your first print!
Repeat the printing steps from damping the square to revealing the print until all your boxes are filled!
YOU DID IT!
Last step…
Share! Post your projects on Facebook or Instagram using the hashtag #qacfamilydinnerproject for your chance to win a $40 gift certificate to use towards classes and workshops at the Art Center! Winner will be drawn August 31!
*SAFETY NOTE: All children under 15 should be accompanied by an adult. Be sure that you read all product directions before use and follow all safety directions listed. When use of hazardous fumes, example: spray paint, use outside or in a well-ventilated space.
**SAFETY PRO-TIP: When using hot glue, if hot glue gets onto your skin DO NOT ATTEMPT TO PULL IT OFF WHILE THE GLUE IS STILL HOT, this will only spread the glue and cause more harm. DO Run area under cool water until glue has cooled or the glue pops off. There will still be a burn, but the injury will be limited. Use burn cream if necessary. Seek medical attention when needed.