Family Dinner Project- December- Surreal Scene
Joseph Cornell, American, December 24, 1903 – December 29, 1972
Influenced by the Surrealists, he was also an avant-garde experimental filmmaker. He was largely self-taught in his artistic efforts, and improvised his own original style incorporating cast-off and discarded artifacts. He lived most of his life in relative physical isolation, caring for his mother and his disabled brother at home, but remained aware of and in contact with other contemporary artists.
Except for the three-and-a-half years he spent at Phillips, he lived for most of his life in a small, wooden-frame house on Utopia Parkway in a working-class area of Flushing, along with his mother and his brother Robert, whom cerebral palsy had rendered physically disabled.  Aside from the period he spent at the academy in Andover, Cornell never traveled beyond the New York City area.
Cornell's most characteristic art works were boxed assemblages created from found objects. These are simple shadow boxes, usually fronted with a glass pane, in which he arranged eclectic fragments of photographs or Victorian bric-a-brac, in a way that combines the formal austerity of Constructivism with the lively fantasy of Surrealism. Many of his boxes, such as the famous Medici Slot Machine boxes, are interactive and are meant to be handled.
Cornell could create poetry from the commonplace. Unlike Schwitters, however, he was fascinated not by refuse, garbage, and the discarded, but by fragments of once beautiful and precious objects he found on his frequent trips to the bookshops and thrift stores of New York. His boxes relied on the Surrealist use of irrational juxtaposition, and on the evocation of nostalgia, for their appeal.
-excerpts taken from en.wikipedia.org/wiki/Joseph_Cornell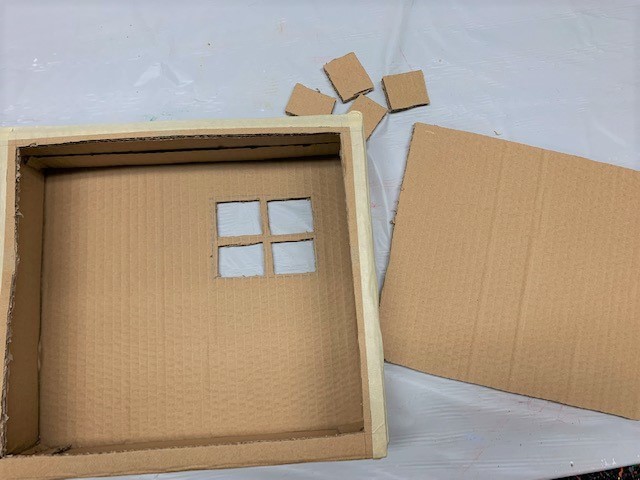 To begin your project, we must first gather materials.
A story you want to tell.
Empty, shallow box. Such as a cereal box.
Paper or paint.
Found objects.
Glue, scissors, and any other items you may need to assemble your project.
Now that we have our supplies, it's time to assemble.
Think of the story you want to tell: Joseph Cornell created a lot of surreal art which represents the area of consciousness between being awake and dreaming. We were inspired by The Night Before Christmas line "Sugar plum fairies dancing in their head" to create a scene representing what that may look like. Many of Cornell's boxes where interactive, meaning that parts of them would move when activated, and they were meant to be held and played with. For our box, we created the dream cloud of the dancing sugar plum fairies to be able to spin when someone turned the knob at the base. Is there an element of your story that would be more impactful with movement? Try using creative problem solving to discover how to make that object move. (Hint: hanging things on string, allowing items to turn or roll, or creating a knob on the back of the item through the box that can be moved are all creative solutions you can try out.)
Find a box. A shallow box, such as a cereal box, will make for the perfect shadow box for your story. Measure out a 1-inch frame around the front of the box and carefully cut out the center so the inside of the box is exposed. You may need adult assistance cutting the opening.
Find Objects: Look for objects around the house that can be used to tell your story. Items like recyclables, broken pieces, unused and non-valuable items, scraps of paper, can all find new life when used in artwork. Our dream stand of sugar plum fairies was created using an old seasoning container, straws, cotton balls, part of a toilet paper roll, and a drawing on a scrap of paper. When combined, these items that were once useless became an effective way to tell a story.
Paint or paper your box. Using paper or paint on your box will help create the setting for your story. Our story is set in a bedroom, so we painted the inside of the box to look like a room. We even cut a window out of the box and used starry fabric to create the setting that it is night time. The outside of the box we painted to look like a picture frame.
Now that you have your story, your objects collected, and your setting created, its time to assemble everything together. Use glue, tape, or another appropriate assembly items to piece your creation together. We used hot glue because it sets fast and can be used on a variety of items, however, hot glue can be dangerous so have an adult apply or assist you as you assemble.
Last step…
Share! Post your projects on Facebook or Instagram using the hashtag #qacfamilydinnerproject for your chance to win a $10 gift certificate to use towards classes and workshops at the Art Center! There are new chances to win every month.
*SAFETY NOTE: All children under 15 should be accompanied by an adult. Be sure that you read all product directions before use and follow all safety directions listed. When use of hazardous fumes, example: spray paint, use outside or in a well-ventilated space.
**SAFETY PRO-TIP: When using hot glue, if hot glue gets onto your skin DO NOT ATTEMPT TO PULL IT OFF WHILE THE GLUE IS STILL HOT, this will only spread the glue and cause more harm. DO Run area under cool water until glue has cooled or the glue pops off. There will still be a burn, but the injury will be limited. Use burn cream if necessary. Seek medical attention when needed.