Family Dinner Project- July – Family Photo Frames
Amilia Amaki, American, July 8, 1949
Amalia Amaki was born Linda Faye Peeks on July 8, 1949 in Atlanta, Georgia to Mary Lee and Norman Peeks, a former musician with the Deep South Boys of Macon, Georgia. Amaki developed a love for script writing, drawing, bold colors and textures at an early age. She instinctively knew that she would change her name. Amaki attended Georgia State University and majored in journalism and psychology. In 1970, she won the Sigma Delta Chi Award for Feature Writing and was the first and only African American on campus to join this journalism organization. In 1971, Amaki received her B.A. degree. She also obtained her B.A. degree from the University of New Mexico in photography and art history and worked as a museum assistant at the University Art Museum for two years while she pursued her degree. In 1974, she changed her name to Amalia Amaki.In 1985, Amaki went to France as an Emory University Foreign Study Fellow. She also became a contributing writer to Art Papers and an art critic for Creative Loafing; papers local to the Atlanta area. Amaki earned her M.A. degree in modern European and American art and a Ph.D. in twentieth century American art and culture from Emory University in the Institute of Liberal Arts. From 1987 to 2000, she taught art history at Spelman and Morehouse Colleges; Atlanta College of Art; Kennesaw State University, Kennesaw, Georgia; and North Georgia College and State University, Dahlonega, Georgia. She served as a guest curator at the Southern Arts Federation in 1996; the Museum of Fine Arts at Spelman College in 1997 and 1998; the Marietta-Cobb Museum of Art in 1999; and the Birmingham Civil Rights Institute in 2004. In the summer of 2004, Amaki was a visiting scholar at the Student Art Centers International (SACI) in Florence, Italy. In 2001, she became Curator of the Paul R. Jones Collection of Art and Assistant Professor of Art in the Art History and Black Studies Departments at the University of Delaware, Newark, Delaware. Amaki was also a Scholar-in-Residence at Spelman College in Atlanta for the 2005 – 2006 school year.

Amaki's art captures the lives of African women of the Diaspora through media from everyday life (photography, quilts, buttons, boxes and household items). Her work redefines the lives of past and present African American heroines and heroes and contrasts their depiction in the mainstream media. She has published a number of articles including "Art: The Paul Jones Collection in Art" and Everyday Life: The Paul Jones Collection, an exhibition catalog by the Marietta-Cobb Museum of Art, Marietta, Georgia in 1999.

Amaki holds memberships in the College of Art Association, American Association of University Professors, Emory University Alumni Board of Governors, Delaware Center for the Contemporary Arts, High Museum of Art, Georgia Museum of Art, and Spelman College Museum of Fine Arts. Her solo works, Amalia Amaki: Boxes, Buttons and Blues have also been on exhibition at the National Museum of Women in the Arts, Washington, D.C.

Amaki splits her time in Atlanta, Georgia and Newark, Delaware.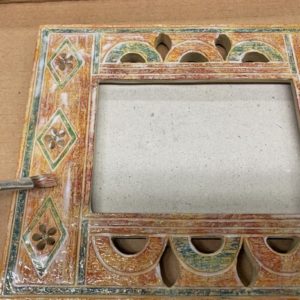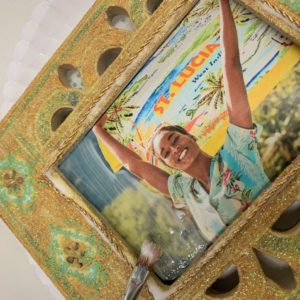 To begin your project, we must first gather materials.
photo
picture frame
glue
buttons, beads, charms, glitter, whatever you want to make your frame pop!
Now that we have our supplies, it's time to assemble.
Add your photo in the picture frame
Gather your supplies and begin to visualize what you want to add to your frame to help bring the story of the photo onto the frame.
Think about color, shapes, or even the objects themselves and how they can add to your photos story.
Once you have your plan, you can begin to add glue to your frame and objects. You may need to use tools like a paint brush or toothpick to get glue onto the right places.
You can even glue things directly to the glass of the picture to blend the frame and the photo together into one cohesive piece.
Let the glue dry, and you have your masterpiece!
Last step…
Share! Post your projects on Facebook or Instagram using the hashtag #qacfamilydinnerproject for your chance to win a $40 gift certificate to use towards classes and workshops at the Art Center! Winner will be drawn June 30!
*SAFETY NOTE: All children under 15 should be accompanied by an adult. Be sure that you read all product directions before use and follow all safety directions listed. When use of hazardous fumes, example: spray paint, use outside or in a well-ventilated space.
**SAFETY PRO-TIP: When using hot glue, if hot glue gets onto your skin DO NOT ATTEMPT TO PULL IT OFF WHILE THE GLUE IS STILL HOT, this will only spread the glue and cause more harm. DO Run area under cool water until glue has cooled or the glue pops off. There will still be a burn, but the injury will be limited. Use burn cream if necessary. Seek medical attention when needed.