Family Dinner Project- June – Mini Book
Maurice Sendak, American, June 10, 1928 – May 8, 2012
Maurice Sendak was born on June 10, 1928 in New York City. The now-renowned children's author studied at the Art Students League and illustrated more than 80 books by other writers before authoring one himself. His most critically acclaimed work includes the dark and beloved story Where the Wild Things Are. Later in his career Sendak collaborated with Carole King on the musical Really Rosie and has done other work for the stage.
Early YearsBeloved children's book author and illustrator Maurice Sendak grew up in Brooklyn, New York. The son of a dressmaker, he was a sickly child who started drawing to pass the time. Sendak excelled at art, landing a part-time job at All-American Comics while in high school.

While working on window displays for New York's famed toy store F.A.O. Schwarz in the late 1940s, Sendak met legendary children's book editor Ursula Nordstrom. She helped Sendak land his first job illustrating children's books. During the 1950s, he worked on books by such authors as Ruth Krauss and Else Holmelund Minarik.

Critical Acclaim

In 1956, Sendak published Kenny's Window, the first children's book he both wrote and illustrated himself. Before long, he turned the children's book world upside down with his 1963 masterpiece Where the Wild Things Are. Sendak captured the public's imagination with this tale of a boy's journey into a strange land inhabited by grotesque yet appealing monsters.

Sendak's dark, moody illustrations were a shocking contrast to the usually light and happy fare found in a typical children's book of the time. The main character Max, like many of Sendak's protagonists, acted like a real child, not some idealized version of youth.

"In plain terms, a child is a complicated creature who can drive you crazy," Sendak once said in an interview. "There's a cruelty to childhood, there's an anger. And I did not want to reduce Max to the trite image of the good little boy that you find in too many books." Where the Wild Things Are earned Sendak a Caldecott Medal, a special honor for children's book illustration.

During his long career, Sendak produced more than 50 books, including In the Night Kitchen (1970) and Outside Over There (1981). He also used his creative talents in a number of other forms, collaborating with Carole King for the musical Really Rosie. Sendak designed sets and costumes for stage versions of his books and other productions as well. In early 1980s, he created the sets for several operas, including Mozart's Magic Flute at the House Grand Opera.

DeathSendak died on May 8, 2012, at a hospital in Danbury, Connecticut. The 83-year-old had suffered a stroke a few days earlier. Sendak will long be remembered for his outstanding contributions to children's literature. His stories and images have left a lasting impression in the minds and hearts of generations of reader—both young and old.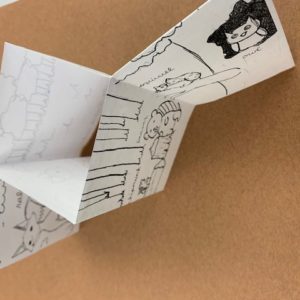 To begin your project, we must first gather materials.
Now that we have our supplies, it's time to assemble.
Fold the paper into 8 equal parts but folding it longways down the middle, fold in the middle again, then fold the two edges in to meet the middle.
Use a pencil to number your pages in the lower corner of each section. Follow the number guide in picture 4. It is important to pay attention to the number order and the direction the numbers are facing!
Draw your the illustrations and words to your book.
You can make as many copies of your book as you would like
To fold the book, cut the middle between pages 3, 4, 7, and 8. Fold in half longways and pop those pages out so they fold back creating a plus sign shape with the pages. find your cover page and your back cover and fold it together accordingly.
Watch the YouTube tutorial HERE
Last step…
Share! Post your projects on Facebook or Instagram using the hashtag #qacfamilydinnerproject for your chance to win a $40 gift certificate to use towards classes and workshops at the Art Center! Winner will be drawn June 30!
*SAFETY NOTE: All children under 15 should be accompanied by an adult. Be sure that you read all product directions before use and follow all safety directions listed. When use of hazardous fumes, example: spray paint, use outside or in a well-ventilated space.
**SAFETY PRO-TIP: When using hot glue, if hot glue gets onto your skin DO NOT ATTEMPT TO PULL IT OFF WHILE THE GLUE IS STILL HOT, this will only spread the glue and cause more harm. DO Run area under cool water until glue has cooled or the glue pops off. There will still be a burn, but the injury will be limited. Use burn cream if necessary. Seek medical attention when needed.