Family Dinner Project- March – Wallpaper Print
William Morris, England, 1834 – 1896
William Morris (24 March 1834 – 3 October 1896) was a revolutionary force in Victorian Britain: his work as an artist, designer, craftsman, writer and socialist dramatically changed the fashions and ideologies of the era.
By all accounts, Morris enjoyed an idyllic childhood growing up in the countryside, playing with his siblings and reading books as obscure as The Arabian Nightsand John Gerard's Herball, showing his early interests in both nature and storytelling. His natural ability in reading and writing went hand-in-hand with his developing interest in the wildlife and flowers surrounding him, and this love of the natural world would have a growing influence on his work.
Morris would become one of the most significant figures in the arts and crafts movement, a man of far ranging creativity and knowledge. His friend Philip Webb designed Morris a family home, Red House in Kent, where the latter lived from 1859 to 1865, before relocating to Bloomsbury, central London. Morris founded his firm Morris, Marshall, Faulkner & Co in 1861 with Burne-Jones, Rossetti, Webb, and others. They were a group of like-minded artists and craftsmen responding to the shoddy practises of much of the Victorian manufacturing. The firm fast became highly fashionable and much in demand, and it profoundly influenced interior decoration throughout the Victorian period, with Morris designing tapestries, wallpaper, fabrics, furniture, and stained glass windows. In 1875, Morris assumed total control of the company, which was renamed Morris & Co and it subsequently traded until 1940, its longevity a testament to the success of Morris's designs.
From 1871 Morris rented the rural retreat of Kelmscott Manor, Oxfordshire. He moved his London home to Kelmscott House, the current home of the Society, in 1878. Alongside his work for the firm, Morris produced a series of English-language translations of Icelandic sagas with Eiríkr Magnússon, as he was greatly inspired by his visits to Iceland. He also achieved success with the publication of his epic poems and novels, namely The Earthly Paradise (1868–1870), A Dream of John Ball (1888), the utopian News from Nowhere(1890), and the fantasy romance The Well at the World's End (1896). In 1877 he founded the Society for the Protection of Ancient Buildings to campaign against the damage caused by Victorian architectural 'restoration'.
In 1891 he founded the Kelmscott Press to publish limited-edition illustrated books. It was a cause that he devoted his last years to, and the Kelmscott Chaucer, the press's greatest book, was completed shortly before he died.
excerpts taken from williammorrissociety.org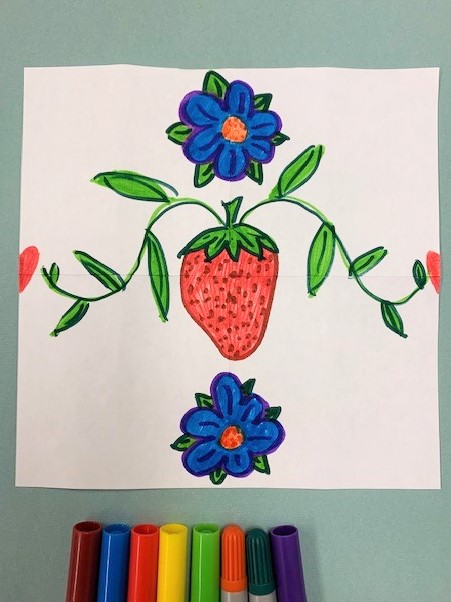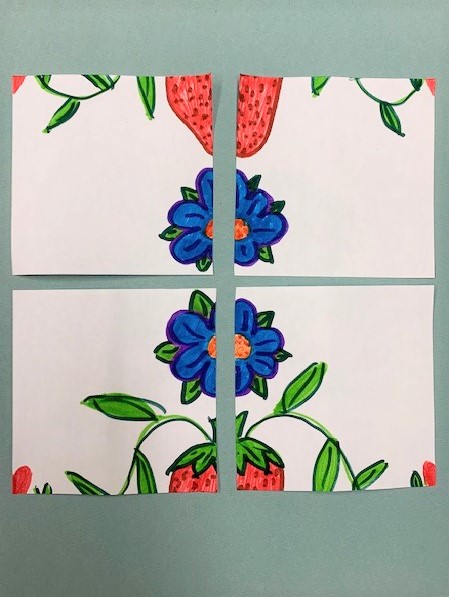 To begin your project, we must first gather materials.
Paper
Scissors
Drawing utencils (could be pen, pencil, markers, crayons, etc.)
Tape
Now that we have our supplies, it's time to assemble.
Use a square piece of paper. Fold the paper into four equal parts.
Draw along the axis of the folds. In the middle, up and down, side to side. Cut along the folds
Switch the pieces from the left over to the right, then switch the pieces from the bottom to the top. Your pattern should now create a boarder around the square. Tape the squares back together.
Now finish out your design by drawing in the middle.
Your square should now be an endless pattern that is able to repeat up, down, and side-to-side.
If you have a scanner at home, you can print multiple copies from home. If not, you can visit your local library and request copies from their copier, however, not all copiers print in color. Another option is to use a window as a light board by taping your original to the window then, placing another paper on top, trace the design over and over until you have extended your pattern as far as you want.
Last step…
Share! Post your projects on Facebook or Instagram using the hashtag #qacfamilydinnerproject for your chance to win a $40 gift certificate to use towards classes and workshops at the Art Center! Winner will be drawn April 30!
*SAFETY NOTE: All children under 15 should be accompanied by an adult. Be sure that you read all product directions before use and follow all safety directions listed. When use of hazardous fumes, example: spray paint, use outside or in a well-ventilated space.
**SAFETY PRO-TIP: When using hot glue, if hot glue gets onto your skin DO NOT ATTEMPT TO PULL IT OFF WHILE THE GLUE IS STILL HOT, this will only spread the glue and cause more harm. DO Run area under cool water until glue has cooled or the glue pops off. There will still be a burn, but the injury will be limited. Use burn cream if necessary. Seek medical attention when needed.