Family Dinner Project- May – Thaumatrope Theatre
Wes Anderson, American, 1969
Wes Anderson is an American film director. He is known for quirky, comical movies with flawed characters, with projects ranging from The Royal Tenenbaums and The Life Aquatic With Steve Zissou to Moonrise Kingdom and The Grand Budapest Hotel. Anderson has also enjoyed success with the stop-motion animated films Fantastic Mr. Fox and Isle of Dogs.
Filmmaker Wesley "Wes" Wales Anderson was born on May 1, 1969, in Houston, Texas. His father, Melver Anderson, ran an advertising and public relations company, and his mother, Texas Anne Burroughs, worked in both real estate and archaeology. Anderson grew up with his two brothers Eric and Mel, but their parents divorced when Anderson was eight. While trying to cope with the disintegration of his parents' marriage, Anderson often misbehaved at school.In time, he turned his energies from mischief making to artistic endeavors. The young Anderson directed movies starring himself and his brothers, filming them with a Super 8mm camera. He read avidly, developing a passion for novels and finding himself consumed by storytelling. Anderson attended St. John's School in Houston, where he became known for his large and complex play productions. Often these productions were based on well-known stories, films and even TV shows: One work was a sock puppet version of the 1978 Kenny Rogers album The Gambler.After graduating from St. John's in the late 1980s, Wes Anderson enrolled at the University of Texas at Austin. There he met Owen Wilson, who has been a writing partner or cast member in almost every film Anderson has made since. Anderson was a philosophy major and Wilson was studying English, and they had common interests. Anderson said to the AMC Blog in 1996 that the two first encountered each other while "doing a playwriting class together: this thing where everybody, about nine of us, sat around a table and discussed plays. And I always sat in one corner, not really at the table, and Owen always sat in another corner, not really at the table, and we never spoke the whole semester."After this class, Anderson recalls running into Wilson, and the two "started talking about writers, but we also talked about movies right off the bat," he said to Interview Magazine in 2009. "I knew I wanted to do something with movies. I don't know if he had realized yet that it was an option." The two eventually became roommates, and worked on a script for a full-length movie they called Bottle Rocket. Anderson earned his B.A. in philosophy in 1991….Anderson returned to his childhood tendency of making his favorite stories come alive. Fantastic Mr. Fox (2009) is a stop-motion animated feature based on Roald Dahl's book of the same name. It stars the usual ensemble of Anderson actors, including Murray, Owen Wilson and Schwartzman as well as George Clooney and Meryl Streep, who voice various woodland animals coming together to fight against an evil farmer. This film was met with much wider critical acclaim than The Darjeeling Limited and joined The Royal Tenenbaums as another film that received Oscar nods in Anderson's filmography.

In March 2018, Anderson returned to the realm of stop-motion animation with Isle of Dogs. Based on the story of a 12-year-old boy who seeks to protect his city's canines from a vengeful mayor, the film featured a star-studded cast that included Bryan Cranston and other longtime collaborators, like Murray.

Isle of Dogs debuted to an estimated $1.57 million over 27 theaters across six North American cities, the biggest opening of the director's career, and later nabbed an Academy Award nomination for Best Animated Feature.

biography excerpts taken from biography.com/filmmaker/wes-anderson
History of the Thaumatrope
An optical toy consisting of a disc of cardboard with different images on each side that can be rapidly revolved through use of two twisted strings. As the disc spins the images appear to merge, an effect similar to that experienced when a coin is spun. The Thaumatrope was produced as a toy by John Ayrton Paris in London in 1826, and is sometimes also referred to as the Faraday Wheel after the British scientist Michael Faraday who investigated the principle of persistence of vision upon which the illusion is based. Optical toys of this sort were popular during the Victorian era and are considered important precursors to the development of the early cinema. (oxford reference)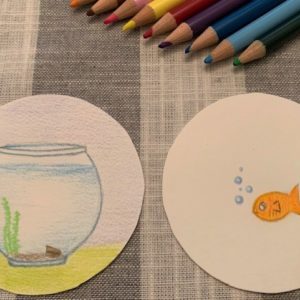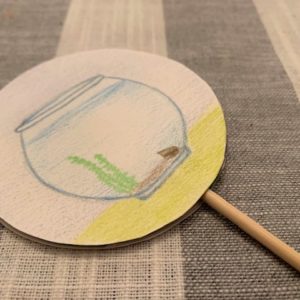 To begin your project, we must first gather materials.
paper
coloring utencils
cereal box
stick
glue
scissors
Now that we have our supplies, it's time to assemble.
Use a round object to trace two circles on your cereal box cardboard and 2 circles on your paper. You will end up with four identical circles.
Think of the images you want to draw. With a thaumatrope, you place two images opposite each other that once spun will merge together. Once famous example of a thaumatrope is an empty cage on one side and a bird on the other, once spun the bird is placed in the cage. For our example we did an empty fish bowl and a fish.
Draw your images on the paper circles.
Glue each paper circle to its own cardboard circle.
Glue, or hot glue, the two circles to the stick making sure the images are lined up opposite of the other. Let it dry before you begin playing with it.
Spin the stick in between your hands and watch how the images merge together. How neat!
Last step…
Share! Post your projects on Facebook or Instagram using the hashtag #qacfamilydinnerproject for your chance to win a $40 gift certificate to use towards classes and workshops at the Art Center! Winner will be drawn June 30!
*SAFETY NOTE: All children under 15 should be accompanied by an adult. Be sure that you read all product directions before use and follow all safety directions listed. When use of hazardous fumes, example: spray paint, use outside or in a well-ventilated space.
**SAFETY PRO-TIP: When using hot glue, if hot glue gets onto your skin DO NOT ATTEMPT TO PULL IT OFF WHILE THE GLUE IS STILL HOT, this will only spread the glue and cause more harm. DO Run area under cool water until glue has cooled or the glue pops off. There will still be a burn, but the injury will be limited. Use burn cream if necessary. Seek medical attention when needed.