Family Dinner Project – November
Fruit Mask
René Magritte, Belgian, 1898–1967
"Clouds, pipes, bowler hats, and green apples: these remain some of the most immediately recognizable icons of René Magritte, the Belgian painter and well-known Surrealist. He produced a body of work that rendered such commonplace things strange, slotting them into unfamiliar or uncanny scenes, or deliberately mislabeling them in order to "make the most everyday objects shriek aloud."1 With his pictorial and linguistic puzzles, Magritte made the familiar disturbing and strange, posing questions about the nature of representation and reality.
Magritte began his career as a graphic artist and quasi-abstract painter, but his work underwent a transformation in 1926, when he began to reinvent himself as a figurative artist. Painted in the deadpan style that would become his hallmark, each figure appears as though in a state of suspended animation. In September 1927, Magritte moved to Paris to be closer to the French Surrealist group. His three years there would be the most prolific of his life. Surrealism, a movement led by André Breton, sought to liberate the mind by subverting rational thought and giving free rein to the unconscious. Until the late 1920s, Surrealist painting had tended toward a style of biomorphic abstraction, often achieved through automatic techniques supposedly outside the artist's conscious control, as advocated by Breton (and seen, for instance, in André Masson's free application of gesso and sand in Battle of Fishes). Magritte, by contrast, pursued a figurative style that, in his words, "challenge[d] the real world" 2 through a naturalistic and highly detailed depiction of ordinary objects and subjects.
Magritte reimagined painting as a critical tool that could challenge perception and engage the viewer's mind. His was a method of severing objects from their names, revealing language to be an artifice—full of traps and uncertainties."
-excerpts taken from www.moma.org/artists/3692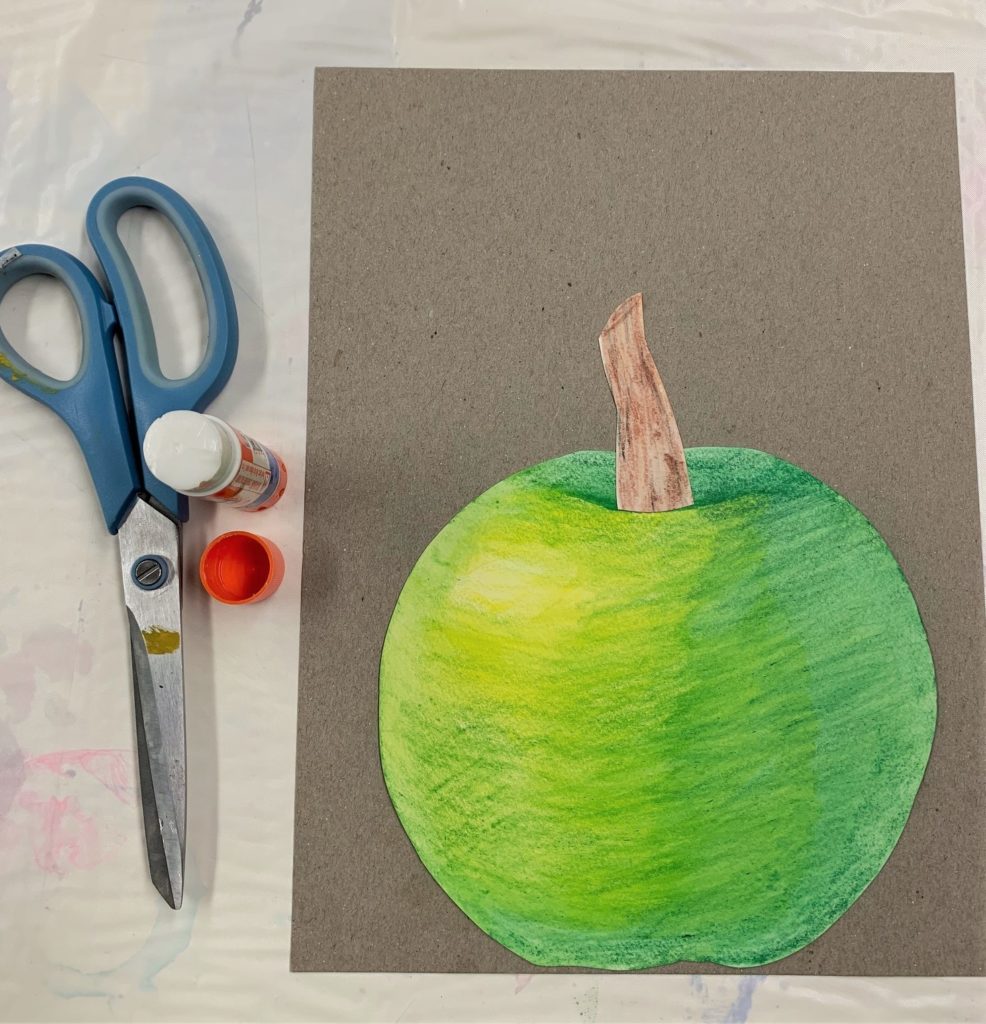 To begin your project, we must first gather materials.
Wire, something that can be easily bent by hand or with the assistance of pliers, can be an old coat hanger.
Paper, large enough for your fruit.
Empty cereal box, to make your fruit mask firm.
Colored pencils, crayons will work too, for drawing and coloring our fruit.
Scissors, to cut out fruit mask.
Glue, to glue paper to cardboard.
Tools: gloves (to protect from pokey wires), wire cutters, 1 – 2 pairs of pliers (sometimes its handy to have 2, however, this can be done without pliers if the wire is soft enough to bend by hand)
Now that we have our supplies, it's time to assemble.
Draw and Color: Our first step is to draw our fruit on the paper. It doesn't have to be an apple, pick your favorite fruit! The fruit should be large enough to cover most of your face, a good way to measure this out is by using your hand as the estimated size of your face. Lightly draw a circle on the paper around your hand to use as a guide and draw the fruit over top. Color it in, use various shades and colors to create highlights and shadows on your fruit, bringing it to life. If you want, you can create leaves for your fruits on separate paper and glue them on later for a dimensional effect.
Cut, Glue, Cut: Cut out your fruit, glue it to the cardboard of your cereal box, then cut it out again. This will create a firm mask that won't blow in the wind. If you had leaves, you can add those now.
Wire Headband: The wire should be long enough to wrap around your head plus three inches. Create a circle with the wire that fits around your head and with the two ends, twist them to create an extension off the headband. Leave enough wire for two prongs to extend out. (see picture for detail)
Glue or tape: Now we can attach the fruit to the headband. Glue or tape the prongs down to the back of the fruit mask (hot glue works well for this)
Wear: Now its ready to wear! If you want to, add a hat like Magritte's Son of Man
Photograph: Take a photo of yourself wearing your fruit mask. It can be in front of a background, your favorite location, or on a trip somewhere new. Be creative!
Last step…
Share! Post your projects on Facebook or Instagram using the hashtag #qacfamilydinnerproject for your chance to win a $10 gift certificate to use towards classes and workshops at the Art Center! There are new chances to win every month.
*SAFETY NOTE: All children under 15 should be accompanied by an adult. Be sure that you read all product directions before use and follow all safety directions listed. When use of hazardous fumes, example: spray paint, use outside or in a well-ventilated space.
**SAFETY PRO-TIP: When using hot glue, if hot glue gets onto your skin DO NOT ATTEMPT TO PULL IT OFF WHILE THE GLUE IS STILL HOT, this will only spread the glue and cause more harm. DO Run area under cool water until glue has cooled or the glue pops off. There will still be a burn, but the injury will be limited. Use burn cream if necessary. Seek medical attention when needed.