Family Dinner Project – October
Pet Sculpture
Alberto Giacometti Alberto Giacometti was born October 10, 1901, in Borgonovo, Switzerland, and grew up in the nearby town of Stampa. His father, Giovanni, was a Post-Impressionist painter. From 1919 to 1920, he studied painting at the Ecole des Beaux-Arts and sculpture and drawing at the Ecole des Arts et Métiers in Geneva. He was also deeply affected by African and Egyptian art and by the masterpieces of Giotto and Tintoretto. In 1922, Giacometti settled in Paris, making frequent visits to Stampa, and occasionally attended Antoine Bourdelle's sculpture classes. In 1927, the artist moved into a studio with his brother, Diego, his lifelong companion and assistant, and exhibited his sculpture for the first time at the Salon des Tuileries, Paris. His first show in Switzerland, shared with his father, was held at the Galerie Aktuaryus, Zurich, in 1927. In 1948, he was given a solo show at the Pierre Matisse Gallery, New York. The artist's friendship with Samuel Beckett began around 1951. In 1955, he was honored with retrospectives at the Arts Council Gallery, London, and the Solomon R. Guggenheim Museum, New York. Giacometti died January 11, 1966, in Chur. (this is a selection of the biography provided by guggenheim.org)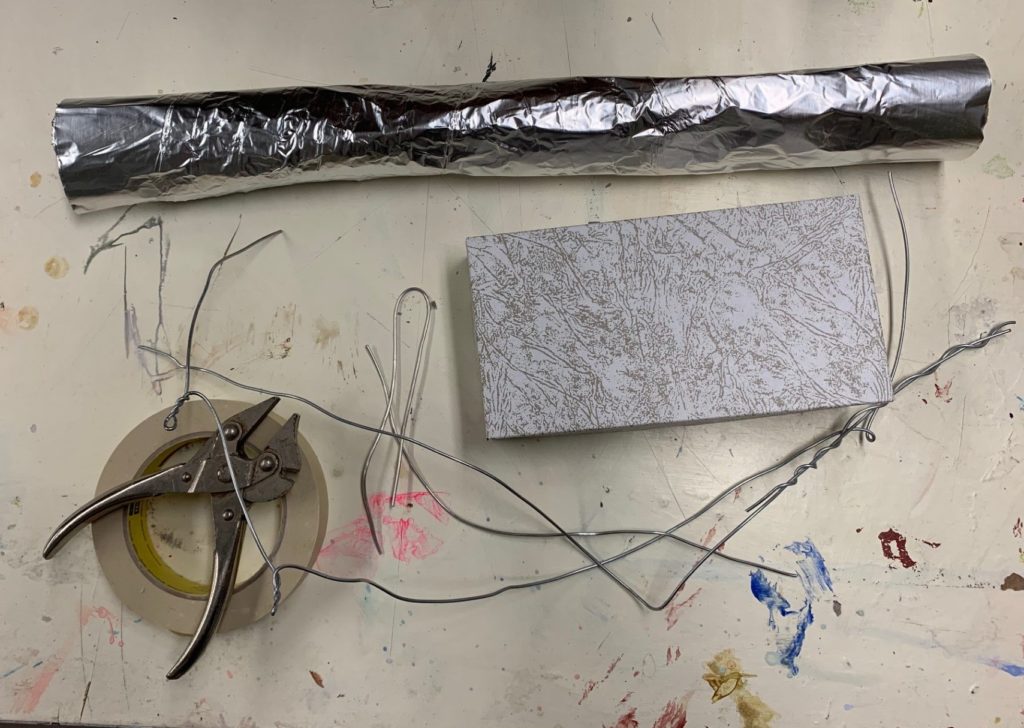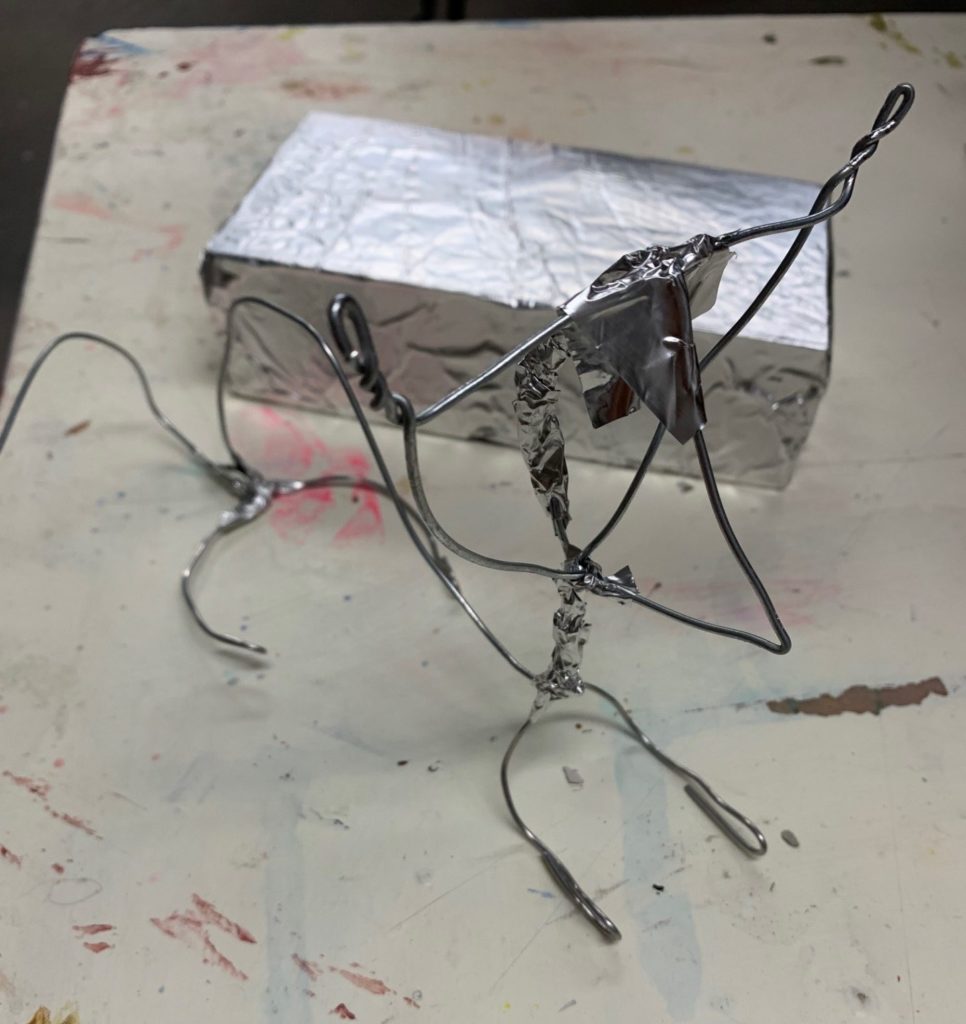 To begin your project, we must first gather materials.
Wire, something that can be easily bent by hand or with the assistance of plyers, can be an old coat hanger or pipe cleaners.
A small box or board, something for your sculpture to sit on.
Aluminum foil, we need enough to cover the base and to wrap the wire sculpture.
Black Paint, this part is optional, it will be used to add and aged, "patina" look to our metal sculpture.
Hot glue, to glue or pet sculpture onto the base.
Tools: gloves (to protect from pokey wires), wire cutters, 1 – 2 pairs of pliers (sometimes its handy to have 2, however, this can be done without pliers if the wire is soft enough to bend by hand)
Now that we have our supplies, it's time to assemble.
Form: Our first step is to create our pet form with our wire. It may help to draw your animal, use a photo, or look at your pet while making the sculpture to make sure you create the correct bends and lines to represent your chosen animal. Think of the wire as more of a frame for your animal, like a stick drawing, the body, ears, and more can be added onto or enhanced with the foil.
Adjust: Double check to make sure your sculpture fits on your base and make any necessary adjustments.
Wrap: Begin to wrap your wire sculpture in foil. Are there any spots you want to add onto and enhance such as the body, ears, or tail?
More Wrapping: Once your sculpture is wrapped, then wrap the base. It's fun to get the crinkles of the foil as we wrap, it adds depth and texture to our sculpture.
Assemble: With our sculpture and our base wrapped, we can then glue it! Hot glue is a great quick way to connect our two parts together. Be sure to read our safety tips below before you begin using the hot glue.
Enhance: This part is optional. Use black paint to enhance the depth of the sculpture. Apply the paint with a brush. Use a rag or paper towel to wipe away the paint from the surface, only leaving it in the crinkles of the foil. Leave to dry.
Last step…
Share! Post your projects on Facebook or Instagram using the hashtag #qacfamilydinnerproject for your chance to win a $10 gift certificate to use towards classes and workshops at the Art Center! There are new chances to win every month.
*SAFETY NOTE: All children under 15 should be accompanied by an adult. Be sure that you read all product directions before use and follow all safety directions listed. When use of hazardous fumes, example: spray paint, use outside or in a well-ventilated space.
**SAFETY PRO-TIP: When using hot glue, if hot glue gets onto your skin DO NOT ATTEMPT TO PULL IT OFF WHILE THE GLUE IS STILL HOT, this will only spread the glue and cause more harm. DO Run area under cool water until glue has cooled or the glue pops off. There will still be a burn, but the injury will be limited. Use burn cream if necessary. Seek medical attention when needed.