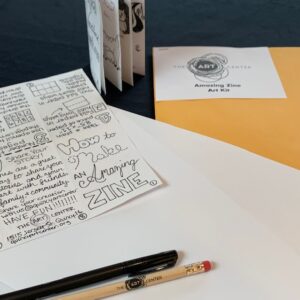 How to Make an Amazing Zine | $9
Inspired by chapbooks of the 18th century, zines are a popular way for artists, poets, and writers to make small batches of self-published works and share them with their community. With this kit you will have all the supplies and instructions to create your own 8 page zine, plus a coupon to come to the Art Center and get prints of your zine for you to share! *While supplies last.
Bulk pricing is available: 10+ kits – $8 | 15+kits – $6 | 20+ kits – $5, call to receive bulk pricing.
Looking for Art in the Classroom? This kit is suggested for grade levels 4th and up, and is perfect for incorporation in cross-curricular classes such as English.